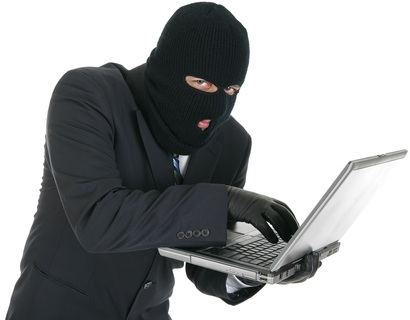 I was recently checking my Google Analytics and I noticed some traffic from an unexpected source. Naturally, I visited the website and I was surprised to find one very similar to my new portfolio. It didn't fully hit me that it was a complete clone until the shuffle letters, the parallax balls and the navigation came up. Check it out for yourself: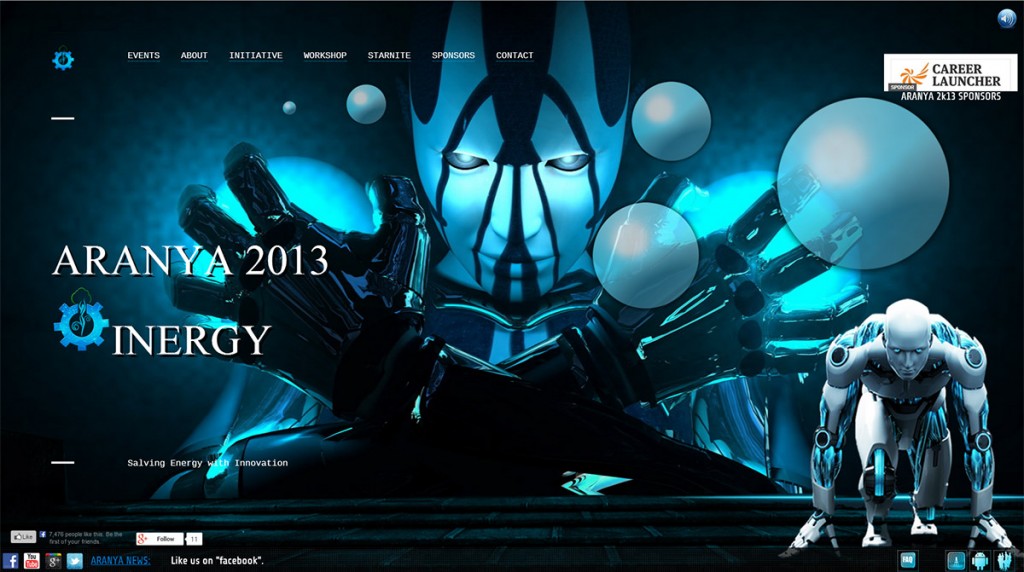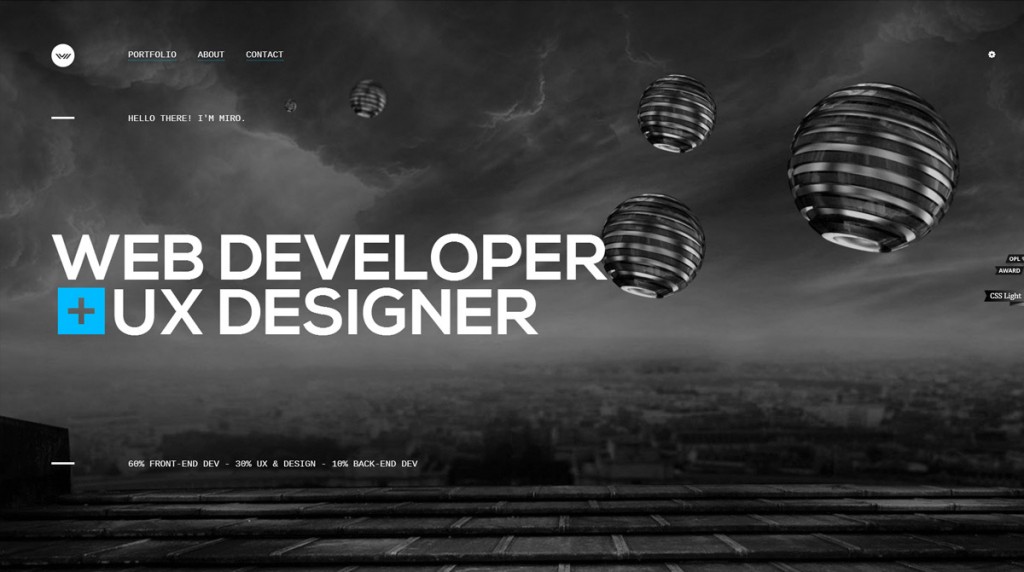 So how did I get traffic to my website? Well it wasn't really my website's traffic. It was their traffic but since they didn't even bother to remove my Google Analytics script, it appeared as a referral on my side.
If you check the source on 'their website' and search for miro you'll find out that they also didn't bother changing the filename of their own logo. (src="img/mirohristov-logo.png")
At first I thought "Well, at least they've got some 3d skills" That's right up until I did a similar images google search of their background: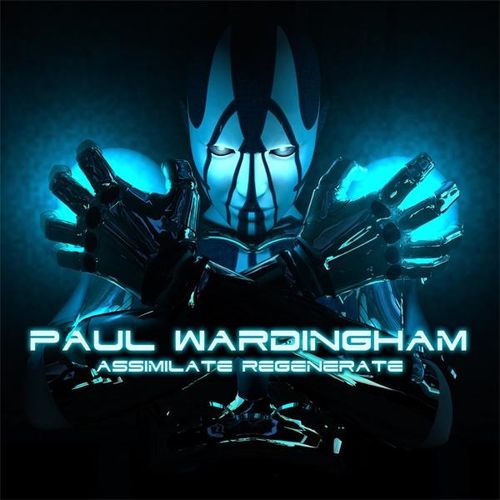 Strangely enough, I'm not completely outraged. Maybe because I'm not a total hypocrite (just a tiny one). 🙂 It's not like I've never in my life ripped a site… so, to a certain extend, I can understand it. But it's never been for the purpose of claiming it as mine. It's always been about inspiration and learning from others. It would've been really nice if they, at least, asked me before using it or add some credits. Knowing me, they'd probably get away with it. It would've been even nicer (for them) if they removed any evidence or back-link to me. That way, I'd never find out about it.
So who's they?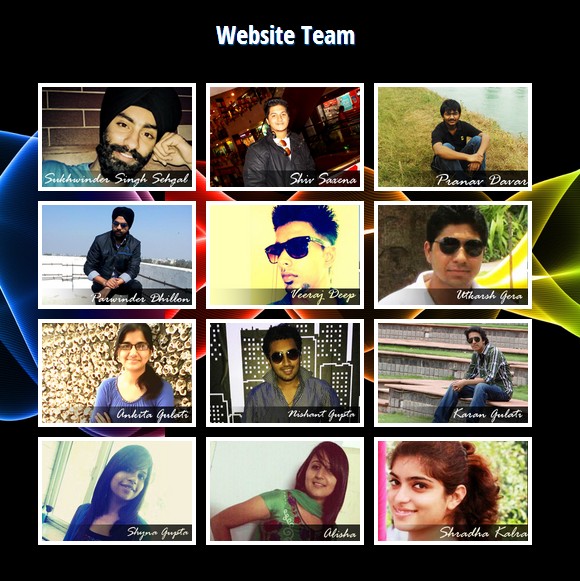 What to do?
My dilemma: Should I be a total dickhead and send a Cease and Desist letter to their hosting & domain company (GoDaddy.com)? Or should I just let it go?
I'll probably ask them nicely to take it down first and then think of something else if that doesn't work. After all I did spend quite a bit of sleepless nights on it. And it does clearly say "Miro Hristov – All Rights Reserved – Copyright © 2013" in the source code of my website (which was removed on theirs so they must have seen it).
Just felt like sharing this with you. Any thoughts are welcome.
---
(Update)
My Request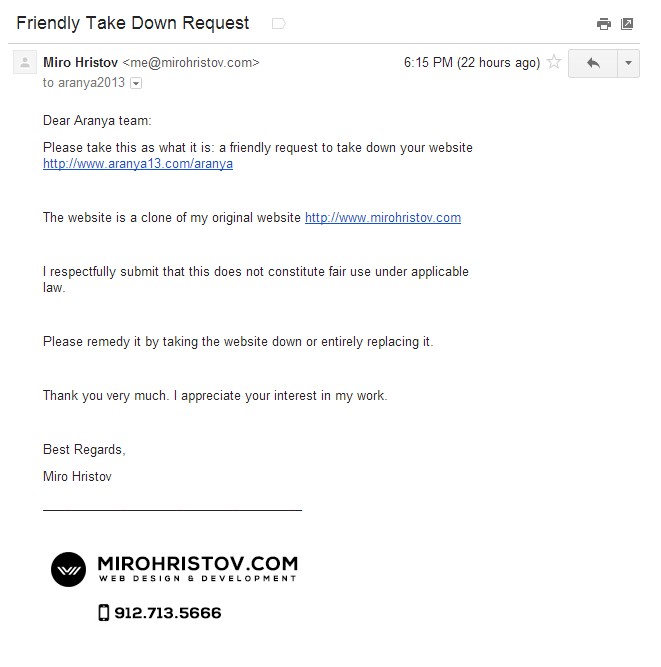 Their response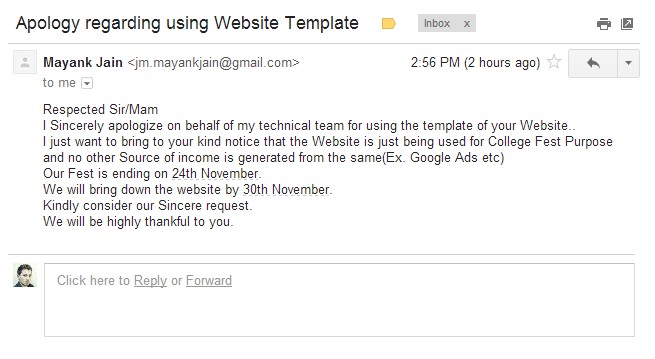 This is Mr. Mayank Jain – Overall Student Co-coordinator.